She is born in the same town and street as I am, this secret dossier can be an embarrassment to Paris, it shall be despaired next year……….French do not like to be connect to a murder about a love affair and jalousie , she was a courtesan not a spy./ AZ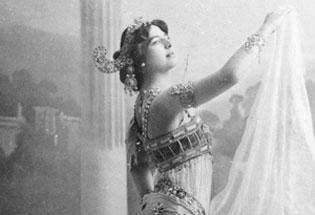 In February 1917, a French judge and a dozen police officers barged into Suite 113 in a luxurious hotel on the Champs Elysées. The beautiful female occupant appeared – naked, according to one account – and handed around chocolates in a captured German helmet.
Ten months later, the woman, aged 41, was shot as a German spy by a military firing squad in the forest of Vincennes, east of Paris. She was a dancer, not a soldier and probably never much of a spy. She came from a country, the Netherlands, which was not even involved in the Great War.
Her name was Margaretha Geertruida Zelle-McLeod, an adventuress, exotic dancer and courtesan, better known by her stage name, Mata Hari (a name under which she invented the striptease in 1905).
Three years after her death, the hotel in which she was arrested – the Elysée Palace – went bankrupt. It was acquired by a French bank and passed on from bank to bank until, eight years ago, it became the French headquarters of HSBC. The 1897 façade, strangely elaborate for a bank, still dominates the upper left-hand pavement of the Champs Elysée, if you look uphill towards the Arc de Triomphe.
Much of the décor and structure of the hotel remains, including a gilded and chandeliered restaurant, now used as an office canteen and bank clients' dining room. The two rooms which formed Suite 113 in 1917 still exist, converted to offices.
After almost 90 years as a bank, the Elysée Palace is about to become a hotel once again. The Emir of Qatar, who likes to go shopping for Parisian landmarks as others might shop for handbags, is reported to have offered €400m (£365m) for the building. HSBC, which has been planning to move to more hi-tech headquarters, is said to be seriously considering the offer. Within the next five years, the Elysée Palace may be reborn as a 200-bedroom, five-star hotel, probably under a different name.
Its transformation, or restoration, is part of a ceaseless, and confusing, process of change on the Champs Elysées, which sometimes appears to be heading both upmarket and downmarket at the same time. The long pavement on the southern side, dominated by the HSBC headquarters, is almost the only part of the upper avenue which has not been converted into either a restaurant or bar or a designer shop.
If the Qatari plan goes ahead, the new hotel will have luxury stores and restaurants along its 50-metre avenue frontage, which now consists of cash machines and posters for HSBC savings plans. Look up and you see the sculptures of cherubs, lobsters, fishes, rams' heads, and friezes of the continents of the world, which once embellished a great international hotel.
The site is still ideal for that purpose and has been given added allure, and commercial appeal, by its association with one of the most celebrated femme fatales of all times.
Mata Hari was originally Margaretha Zelle, the daughter of an unsuccessful hat manufacturer from the town of Leeuwarden in the northern Netherlands. In April 1895, aged 19, she answered an ad for a wife placed by a Dutch officer of Scottish extraction, Rudolph McLeod. (She would later call herself "Lady McLeod" and claim to be – amongst other things – the daughter of a British lord and an Indian princess.)
After the marriage, they emigrated to the Dutch East Indies. Their small son, Norman, was poisoned by a servant, allegedly because McLeod had raped a young local woman. The unhappy couple returned to the Netherlands and separated. Rudolph seized custody of their daughter. Margaretha drifted to Paris.
Here, she reinvented herself as an exotic oriental dancer, taking the name Mata Hari (which means "eye of the day" in Malay). Her act was a pastiche of oriental dances, in which she wriggled in front of a spoof idol as she removed her veils. This proved a great commercial success. She became also – quite openly and shamelessly – a courtesan, with scores of paying lovers.
When the First World War started in August 1914, Mata Hari was in Berlin and about to start a new show. She was expelled and cheated of her money and fur coats. Back in the Netherlands, in 1915, she was approached by the Germans to go to Paris as a spy. She agreed and accepted 50,000 francs – to recover what the Germans had stolen from her, she insisted later.
What happened over the next couple of years remains a matter of dispute. According to a French historian, Leon Schirmann, she became a French double agent but disappointed and exasperated both sides, to the extent that they both turned on her.
Mr Schirmann says that the French government – desperate for triumphs and scapegoats at one of the most miserable periods of the war – seized on the opportunity to turn the immoral foreigner, Mata Hari, into a wicked master-spy. She was the "perfect victim", Mr Schirmann argued in a 2001 book, because she was foreign, manifestly immoral (by the hypocritical standards of the time) and a woman who lived the high life while French soldiers were dying in the mud of the Chemin des Dames.
One of the many stories spread about her by her military accusers was that she bathed in milk, "at a time when there is not enough milk for our children". There is no evidence that she ever did so but it is clear that she liked to live in some style. When briefly arrested by the British in 1916, she was travelling with 10 trunks of luggage, containing, amongst other things, 11 pairs of shoes and 33 pairs of stockings.
Evert Kramer, custodian of a large collection of Mata Hari memorabilia at the Fries Museum in Leeuwaarden, takes a more negative view. "She was clearly guilty," he said. "She did spy for the Germans, that is certain. She also made several offers to spy for the French. Until all the Mata Hari papers are declassified by the French government in 2017, we cannot know the full truth. Even then, I doubt whether the full story will be revealed."
In 1916, Mata Hari set off from Paris to Belgium, via Spain, ostensibly to seduce German officers and provide secrets to the French. Her ship was stopped by the British in the Channel and she was returned to Madrid. Here, she seduced – or so she thought – the German intelligence attaché, Arnold Kalle, and gave him a series of vague pieces of gossip about the French conduct of the war. In return, he gave Mata Hari some barely more useful pieces of German information, which she sent to the French.
Major Kalle sent Mata Hari's fatuous leaks – "The British are now running France" – to Berlin using a code which he knew had been broken by the French. His intention seems to have been to punish her for taking German money for useless information.
Mata Hari symbolised the freedom and hypocrisies of turn-of-the-century Paris, but failed to grasp that the world had changed in 1914. She was a prototype of a form of 20th century liberated woman – a proto-Mae West or Marilyn Monroe – who seized independence through manipulating and pleasing men. Until the day of her execution, she seems to have believed that her charms, personal and physical, would always enable her to muddle through.
When she returned to Paris in February 1917, unsuspecting, she booked into the Elysée Palace hotel. Her first instinct when the judge and policemen came to call was to hand around the chocolates.
She was tried behind closed doors in July 1917 and condemned to death. According to employees at HSBC, there have long been rumours that Mata Hari's ghost haunts the corridors of the old hotel. Maybe, she is waiting for the restaurant and the bar to re-open.
sorce: Independent GB