Japan's prime minister, Shinzo Abe, is poised to declare a nationwide state of emergency in an attempt to contain the coronavirus outbreak, Japanese media reports said on Thursday, writes Justin McCurry in Tokyo.
Abe last week declared a month-long state of emergency in seven regions, including Tokyo, but has come under pressure to include other parts of the country amid a steady rise in Covid-19 cases.
The move stops far short of the lockdowns introduced in other countries. Instead, local authorities have asked people to stay indoors and request that non-essential businesses close, but there are no penalties for those who fail to comply.
The government has said people have to reduce contact with others by 70-80% to avoid an explosive growth in infections in Japan, which has so far seen a relatively small outbreak, despite recording its first case in mid-January, with about 8,500 infections and 136 deaths by Thursday.
As a result, there has been a significant fall in the number of commuters on Tokyo's usually crowded public transport system and some central parts of the city are practically deserted. But experts fear the virus could spread in local neighbourhoods, where the streets appear to be much busier.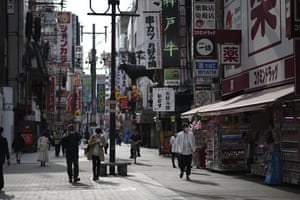 Since the state of emergency emergency came into effect on 8 April, several regional governors have called for the measures to be expanded to cover their areas – warning of a growing number of infections and stretched medical facilities.
The chief cabinet secretary, Yoshihide Suga, said the government would consult experts on Thursday before widening the state of emergency from seven to all 47 of Japan's prefectures.
In a joint statement issued this week, emergency medical associations warned that they were "already sensing the collapse of the emergency medical system", with hospitals unable to deal with patients suffering from illnesses other than Covid-19.
In addition, the mayor of Osaka, Japan's third-biggest city, this week appealed for donations of raincoats to be repurposed as protective clothing for health workers who were being forced to use bin liners due to a shortage of equipment.
Guardian