Department of Energy has also concluded COVID-19 pandemic likely originated from lab leak in China
FBI Director Christopher Wray discusses the origins of the COVID-19 pandemic on "Special Report."
FBI Director Christopher Wray said the COVID-19 pandemic was likely caused by a lab leak in Wuhan, China.
"The FBI has for quite some time now assessed that the origins of the pandemic are most likely a potential lab incident in Wuhan," Wray told Fox News in an interview that aired Tuesday. "Here you are talking about a potential leak from a Chinese government-controlled lab."
"I will just make the observation that the Chinese government, it seems to me, has been doing its best to try to thwart and obfuscate the work here, the work that we're doing, the work that our U.S. government and close foreign partners are doing. And that's unfortunate for everybody," he added.
Wray said the FBI has specialists who focus on "the dangers of biological threats, which include things like novel viruses like COVID, and the concerns that they [are] in the wrong hands [of] some bad guys, a hostile nation state, a terrorist, a criminal."
ANOTHER US AGENCY ASSESSES COVID-19 ORIGIN LIKELY A CHINESE 'LAB LEAK': REPORT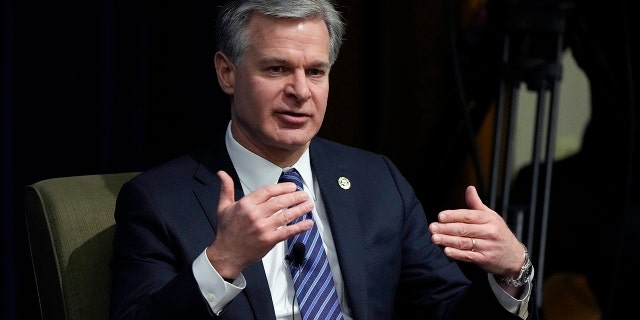 FBI Director Christopher Wray speaks at the Gerald R. Ford School of Public Policy at the University of Michigan, Dec. 2, 2022, in Ann Arbor, Michigan. (AP Photo / Carlos Osorio)
He also said that the Chinese government has been trying to block investigative work into the origins of the coronavirus.
Wray's comments come after the Department of Energy has also recently assessed that the COVID-19 pandemic was likely caused by an accidental lab leak in China.
US 'CONFIDENT' CHINA CONSIDERING PROVIDING LETHAL EQUIPMENT TO RUSSIA,