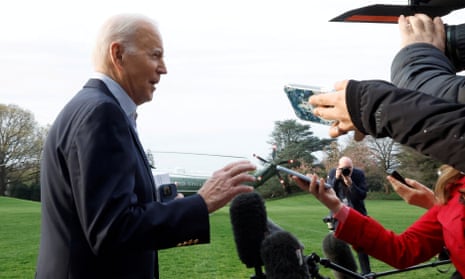 Human Rights Watch describes arrest of WSJ's Evan Gershkovich as 'depraved cynical move' designed to silence critical voices
Shaun WalkerFri 31 Mar 2023 16.44 BST
President Joe Biden has called on Russia to release Evan Gershkovich, a Wall Street Journal reporter arrested earlier this week on espionage charges and facing 20 years in jail.
"Let him go," said Biden, when asked about the case on Friday. Previously, the White House press secretary, Karine Jean-Pierre, described the espionage charges levelled against Gershkovich as "ridiculous".
The prospect of a speedy release seems increasingly unlikely, however, as Russian officials continue to speak about Gershkovich in terms suggesting his conviction is a foregone conclusion.
"We are dealing with activity conducted under the cover of journalism, activity that is essentially espionage. Since he was caught red-handed, the situation is plain and simple," said Dmitry Peskov, a spokesperson for Vladimir Putin.
Gershkovich was arrested in Ekaterinburg on Wednesday, and flown to Moscow, where a court on Thursday officially charged him with espionage and remanded him in custody until the end of May.
The Wall Street Journal has vehemently denied the charges against the 31-year-old reporter, and friends and colleagues of Gershkovich have described the accusations as ludicrous.
Observers have suggested two possible motives for the arrest: to stifle critical reporting on Russia even further, and to take Gershkovich "hostage" as a bargaining chip for a possible future exchange for Russian spies caught in the west. Being included in such an exchange may be Gershkovich's best chance of a speedy release.
Rachel Denber of Human Rights Watch described the arrest as a "depraved cynical move" designed to silence critical voices and dissuade foreign journalists from covering Russia.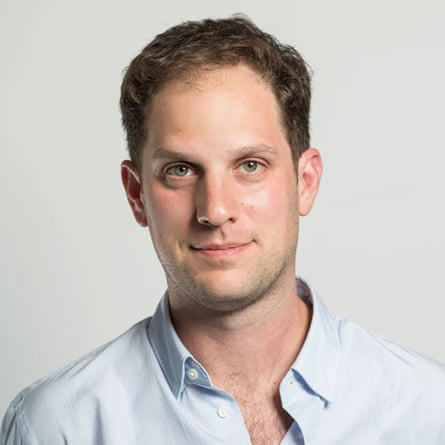 "It's hard to avoid the conclusion that Gershkovich's arrest marks Russian authorities' desire to keep foreign journalists away and stop their reporting on topics that are critical of the government or that unmask its abuses," wrote Denber.
Since the full-scale invasion of Ukraine last year, most independent Russian journalists have left the country, after a spate of repressive new laws essentially making honest journalism illegal.
Many foreign journalists left too, but some stayed or continued to visit for short trips. The arrest of Gershkovich has changed the stakes.
"It's a message to the journalists, and it's also a very important message to Russian elites: don't speak with foreign journalists. Keep your mouth shut," said Yevgenia Albats, a veteran Russian journalist who left Moscow last August.
Working as a foreign correspondent in Russia has never been easy. Gaining or renewing official accreditation could be a long and tedious process, and insinuations of "Russophobia" or espionage activity were frequent. Hostility, intimidation and occasionally being followed by sinister watchers came with the territory.
But until now, the worst possible outcome for accredited foreign journalists had always been deportation or blacklisting. The arrest of Gershkovich shows Russian authorities are now willing to arrest even a well-known reporter from a high-profile publication, and will lead to a reassessment of the risks in reporting from the country for many.
"In the Soviet times there were clearcut red lines. It was known to us, I guess it was known to foreign journalists, what they could do and what they couldn't. Now there are no red lines: you just don't know," said Albats.
Journalists who know Gershkovich paid tribute to him as a passionate and diligent reporter.
He is being held in Moscow's notorious Lefortovo jail. Friends of his have set up an email address, freegershkovich@gmail.com, where wellwishers can send messages for the detained journalist. If in English, the messages will be translated into Russian, as required by Russian law, and then sent to Gershkovich in prison.
Congratulations on being one of our top readers globally – you've read 120 articles in the last year
Article counton
Thank you for joining us from the Netherlands.
The war in Ukraine has changed the world, and the Guardian has covered every minute of it. Our people on the ground have endured personal risk and hardship to produce more than 5,000 articles, films and podcasts since the invasion. Our liveblog has reported continuously and comprehensively since the outbreak of Europe's biggest war since 1945.
We know it's crucial that we stay till the end. Will you join us? There is no substitute for being there – and we'll stay on the ground, as we did during the 1917 Russian Revolution, the Ukrainian famine of the 1930s, the collapse of the Soviet Union in 1991 and the first Russo-Ukrainian conflict in 2014. We have an illustrious, 200-year history of reporting throughout Europe in times of upheaval, peace and everything in between. We won't let up now. Will you make a difference and support us too?
Tens of millions have placed their trust in the Guardian's fearless journalism since we started publishing 200 years ago, turning to us in moments of crisis, uncertainty, solidarity and hope. We'd like to invite you to join more than 1.5 million supporters from 180 countries who now power us financially – keeping us open to all, and fiercely independent.
Unlike many others, the Guardian has no shareholders and no billionaire owner. Just the determination and passion to deliver high-impact global reporting, always free from commercial or political influence. Reporting like this is vital to establish the facts: who is lying and who is telling the truth.
And we provide all this for free, for everyone to read. We do this because we believe in information equality. Greater numbers of people can keep track of the events shaping our world, understand their impact on people and communities, and become inspired to take meaningful action. Millions can benefit from open access to quality, truthful news, regardless of their ability to pay for it.